Okay! I finally figured out how to use my spinning wheel and I'm feeling like a spinning machine!
Here are some pictures of the results of last week's madness!
The basket of happy, including the current drop spindle adventure, and the spinning wheel accomplishments. Also some early drop spindle efforts including: Airo/Fluffy two ply (grossly under spun), Airo two ply, and 200 grams of cabled four ply using Fluffy dyed with grape, orange, and lime Kool-Aid. The super soft stuff at front and center is a two ply, bulky, 100% angora bunny sample.
100 grams of Thunder in a bulky two-ply. I did this first as a practice on the wheel because Thunder's is a lesser grade fibre.
Next I sun up some of Fluffy's fibre that I had already dyed with Tropical and Strawberry Kool-Aid, and plied it with some long, fine black fibre that a lady gave me early this spring. I achieved the variegated look by spinning a solid colour single and plying it with a single that I alternated in sections bewteen the black and the colour. The sections spun out to about 1.5 meters in lenth. When plied the wool alternates 1.5 meters of solid colour, and 1.5 meters of color/black candycane stripe. Sorry, I am explaining it as best I can but I still lack a great deal of spinning language! Each skein weighs 100 grams.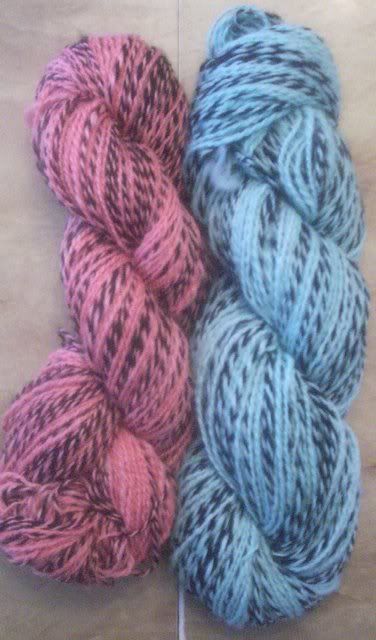 I've been spinning Airo's fibre right from the lock His fibre is soft and fairly fine, about 4 inches staple length. I guess I decided to spin from the lock because My carder is old and annoying. The carding cloth needs to be replaced something fierce. All I want to do is get some more time on the wheel so I just grabbed some of his fleece straight from the bag and went to town. I am really quite thrilled with the end result. It's a fairly fine two-ply. I am trying to spin as finely as I can because I would really like to get some lace weight spun up in time for Christmas, but I am learning quickly that I think my wheel lends itself better to spinning a bulkier yarn. There is only one...drive ratio? And I find the finer I try for, the more I have to kick that pedal like crazy in order to get enough spin in my singles. Again, each skein is 100 grams. I have a grand total of 600 grams that I am spinning up this way.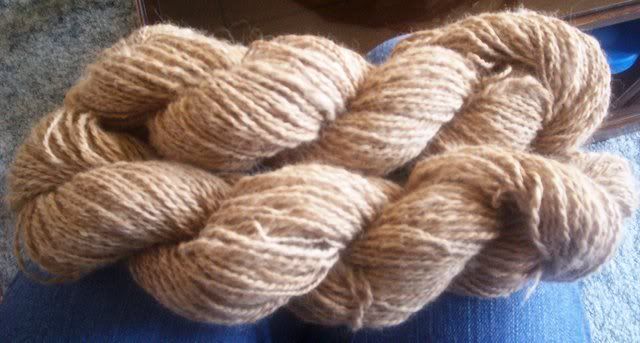 And here's an inkle weaving in progress shot. This is the guitar strap that my auntie commissioned for a Christmas present. It's done with dark royal blue, turquoise, navy and white. I will post a shot of the finished product ASAP.
Well phew! This posting photos business with dial-up proves to be a challenge every time, but it's worth it in the end. The real downer is that it's hard to get motivated to post when it sucks away the whole morning trying to get the images up.
Hugs all around I hope what's left of the autumn treats everyone to great weather!
Cheers n' beers!
JQ